Brushing & Flossing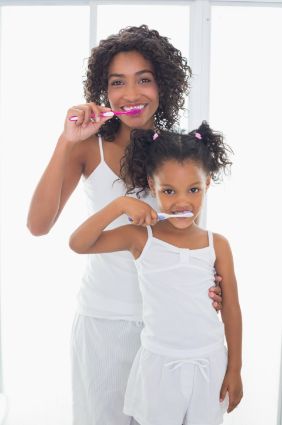 Brushing
Children should brush their teeth 2 times a day for about 2 minutes each time with a toothpaste that contains fluoride.

Parents should help their child brush until their child is at least 7-8 years old. 
How to Brush
Place the toothbrush against the gum line at a 45-degree angle. 

Use a small circular motion to brush the teeth. 

Brush back and forth on the chewing surfaces of the teeth, holding the brush flat. 

Do not forget the back of the teeth. 

Brush the tongue. 

Never share toothbrushes; it spreads germs.

The amount of fluoride toothpaste that should be used in brushing children's teeth varies at different times in a child's development. 

Under age 3, use a smear, about the size of a grain of rice.

Age 3 - 6, use a pea-size amount.

Spit, do not rinse, after brushing.

When brushing, be sure to brush all surfaces of the teeth and the tongue.

Use a toothbrush with soft bristles.

Replace your toothbrush every 3 months and especially after illness (particularly strep throat). For more information on brushing, see the Keeping Your Smile Healthy brochure.  
Flossing
Floss daily to clean between the teeth that touch.

Parents should floss their child's teeth until they are at least 7-8 years old.